Living in a rural community it is not uncommon to come across a wide array of wildlife.  Coyotes and Bears are becoming more prevalent and it is important to know how to safely coexist.
COYOTES
Coyotes play an important role in the ecosystem, helping to keep rodent populations under control. They are by nature wary of humans. However, coyote behavior changes if given access to human food and garbage. They lose caution and fear. They may cause property damage and threaten human safety, requiring euthanasia. Relocating a problem coyote is not an option because it only moves the problem to someone else's neighborhood.
The following guidelines can help reduce the likelihood of conflicts with coyotes:
Never feed a coyote. Deliberately feeding coyotes puts pets and other residents in the neighborhood at risk.
Feeding pet cats and/or feral (wild) cats outdoors can attract coyotes. The coyotes feed on the pet food and also prey upon the cats.
Put garbage in tightly closed containers that cannot be tipped over.
Remove sources of water, especially in dry climates.
Bring pets in at night.
Put away bird feeders at night to avoid attracting rodents and other coyote prey.
Provide secure enclosures for rabbits, poultry, and other farm animals.
Pick up fallen fruit and cover compost piles.
Although extremely rare, coyotes have been known to attack humans. Parents should monitor their children, even in familiar surroundings, such as backyards.
Install motion-sensitive lighting around the house.
Clear brush and dense weeds from around dwellings – this reduces protective cover for coyotes and makes the area less attractive to rodents and rabbits. Coyotes, as well as other predators, are attracted to areas where rodents are concentrated like woodpiles.
If coyotes are present, make sure they know they're not welcome. Make loud noises, blast a canned air siren, throw rocks, or spray them with a garden hose.

For more information on coyotes visit the official NJDEP Division of Fish and Wildlife website


Past interbreeding between wolves and coyotes may be responsible for the larger size and color variations in the eastern coyote.
BEARS
Black bears by nature tend to be wary of people. However, if you encounter a black bear in your neighborhood or outdoors while hiking or camping, follow these common-sense safety tips.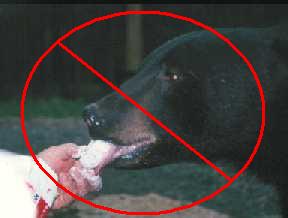 Never feed or approach a bear!
Remain calm if you encounter a bear. Do not run from it.
Make the bear aware of your presence by speaking in an assertive voice, singing, clapping your hands, or making other noises.
Make sure the bear has an escape route.
If a bear enters your home, provide it with an escape route by propping all doors open.
Avoid direct eye contact, which may be perceived by a bear as a challenge. Never run from a bear. Instead, slowly back away.
To scare the bear away, make loud noises by yelling, banging pots and pans or using an airhorn. Make yourself look as big as possible by waving your arms. If you are with someone else, stand close together with your arms raised above your head.
The bear may utter a series of huffs, make popping jaw sounds by snapping its jaws and swat the ground. These are warning signs that you are too close. Slowly back away, avoid direct eye contact and do not run.
If a bear stands on its hind legs or moves closer, it may be trying to get a better view or detect scents in the air. It is usually not a threatening behavior.
Black bears will sometimes "bluff charge" when cornered, threatened or attempting to steal food. Stand your ground, avoid direct eye contact, then slowly back away and do not run.
If the bear does not leave, move to a secure area.
Report black bear damage or nuisance behavior to the DEP's 24-hour, toll-free hotline at 1-877-WARN DEP (1-877-927-6337).
Families who live in areas frequented by black bears should have a "Bear Plan" in place for children, with an escape route and planned use of whistles and air horns.
Black bear attacks are extremely rare. If a black bear does attack, fight back!
For more information on bears visit the official NJDEP Division of Fish and Wildlife website