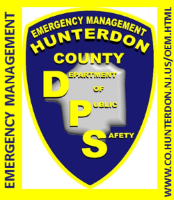 Good Evening Hunterdon County Residents,
Hunterdon County continues to respond to and recover from to the impacts delivered from Tropical Storm Isaias.
Nearly 24,000 JCP&L customers in Hunterdon County are without power, representing nearly 40% of the customer base. JCP&L reports more than 695,000 customers are without power across New Jersey which represents more than 60% of their total customers. JCP&L is advising that restoration will likely take days. Residents should begin making their own arrangements for the coming days. Tomorrow's forecast calls for mostly sunny conditions and temperatures ranging between 85 and 90 degrees. Those who are unable to stay in their homes should decide to stay with family or friends, or in a hotel. Turning to a shelter should be an absolute last resort due to the presence of COVID-19 in the community and throughout New Jersey, and the Country.
Wires are down in many municipalities throughout the County. A Flood Warning remains in effect. Please use extreme caution for both hazards.
If you are using a generator, please be sure it is done so in accordance with the manufacturer's standards and recommendations.
Be aware of trees that are uprooted but might be hung up in debris. If removing trees or vegetative debris, check for utility wires that might be entangled in the debris, and use extreme caution when operating chainsaws and other tools.
Those needing assistance are urged to contact the Hunterdon Helpline. Helpline can be contacted at 908- 782-4357 or 1-800-272-4630.
Information and resources will be posted to the Hunterdon County website, as well as the Hunterdon County Department of Public Safety Facebook account.
Facilities serving as charging stations and cooling centers will need to adhere to COVID-19 precautions. If you report to one of these locations, please exercise patience as lines may form and you may need to wait for your turn.
Frequent updates will be provided. Please educate family and friends about our Community Alerts system, our social media accounts, and our website.