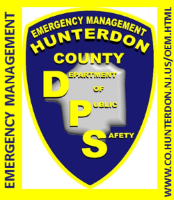 Good Evening Hunterdon County Residents,
Hunterdon County continues to respond to and recover from the impacts delivered from Tropical Storm Isaias.
As of this evening, there are more than 17,600 JCP&L customers without power in Hunterdon County.  We are coordinating efforts with municipal officials and JCP&L staff to conduct damage assessments and work toward restoration.  There are state, county and municipal roadways that are impassable due to wires and debris down.  Additionally, there are critical facilities such as nursing homes and sewage pumping facilities that are without power.  We also have residential neighborhoods that cannot be accessed by emergency services if the need arises because access is blocked by utility infrastructure on the ground.  We are working with JCP&L to address these issues of public safety.  If you have an outage, please report it directly to the utility provider at 1-888-544-4877.  Do not call 911 to report an outage or to inquire about restoration.
This will be a long duration event.  If you are unable to shelter in place then you should make arrangements today to relocate to stay with family or friends, or in a hotel.  Due to the COVID-19 pandemic, looking to a congregate shelter should be an option of last resort this hurricane season.
JCP&L has activated their free water and ice program at the following locations for those who are without power:
SOMERSET/HUNTERDON/MERCER COUNTIES
  Kings Supermarket, 450 Rt. 206N & Hills Dr., Bedminster, Somerset County
  Shop Rite of Hunterdon, 50 Rte 513 BLDG D, Clinton, Hunterdon County
  Shop Rite of Hunterdon, 272 Rt. 202 & Rt. 31, Flemington, Hunterdon County
  Kings Supermarket, 531 U.S. Hwy. 22 East, Whitehouse Station, Hunterdon County
  Shop Rite -Branchburg, 3166 Rt 22, Somerville, Somerset County
  Shop Rite – Pennington, 2555 Pennington Rd, Pennington, Mercer County
WARREN COUNTY
  Shop Rite – Ronetco, 1965 Rt 57 Hackettstown NJ
  Shop Rite of Hunterdon, 1207 Rt. 22, Phillipsburg (Greenwich Store)
  Shop Rite of Washington, 2 Clubhouse Dr @ Route 31, Washington
Please avoid any downed wires.  If you are using a generator, please be sure it is done so in accordance with the manufacturer's standards and recommendations.  Never use a generator indoors.
Be aware of trees that are uprooted, but might be hung up in debris.  If removing trees or vegetative debris, check for utility wires that might be entangled in the debris, and use extreme caution when operating chainsaws and other tools.
Each municipality has a local Office of Emergency Management.  Please visit your municipal website to obtain information on how to contact them for assistance.
Those needing assistance are also urged to contact the Hunterdon Helpline.  Helpline can be contacted at 908-782-4357 or 1-800-272-4630.
Information and resources will be posted to the Hunterdon County website, as well as the Hunterdon County Department of Public Safety Facebook account.
Facilities serving as charging stations and cooling centers will need to adhere to COVID-19 precautions.  If you report to one of these locations, please exercise patience as lines may form and you may need to wait for your turn.  Various municipalities are making these resources available to their residents.  Please consult the municipal office or the municipal website to determine if such a facility is open in your town.
Frequent updates will be provided. Please educate family and friends about our Community Alerts system, our social media accounts, and our website.